Head of School's Blog
Occasional musings from Head of School Brad Bates
Remembering a great friend…
This past Sunday we celebrated the life of Carl Von Mertens in the Louise Shonk Kelly Recital Hall on campus. Carl was a long-time science and woodworking teacher at Dublin School and joined the board of trustees the first year I became head of school. Carl volunteered his time over the last fifteen years literally building this campus. He built the Perkin Observatory, the Writer's Cabin, the Yurt, the Timing Cabin, Mary's Mews, almost one hundred tables for classrooms and the dining hall, a piece of furniture for almost every teacher on campus, the custom tables in the Spencer Student Center, and much more. For just my office alone, he built a large desk, a coffee table, an awesome old-school chalkboard, and a writing desk. But more importantly, Carl loved young people and enjoyed nothing more than teaching them how to use their hands and minds. I was honored to be asked to speak at his memorial and wanted to share some of my words here so that people could see part of the impact he had on the school and on me personally.
Others have spoken about his teaching at Dublin, and his legacy is legendary. I met Carl during the first year of his "retirement" when I arrived fifteen years ago as a young head of school. Fortunately, Carl joined the Board of Trustees, and we had the opportunity to spend lots of time together, and we quickly became friends. I will say that a good 50% of my meetings with Carl, which were typically about finding ways to inspire and engage young people, ended up with both of us getting teary-eyed. So please excuse me in advance if I get choked up. Carl continues to have that impact on me!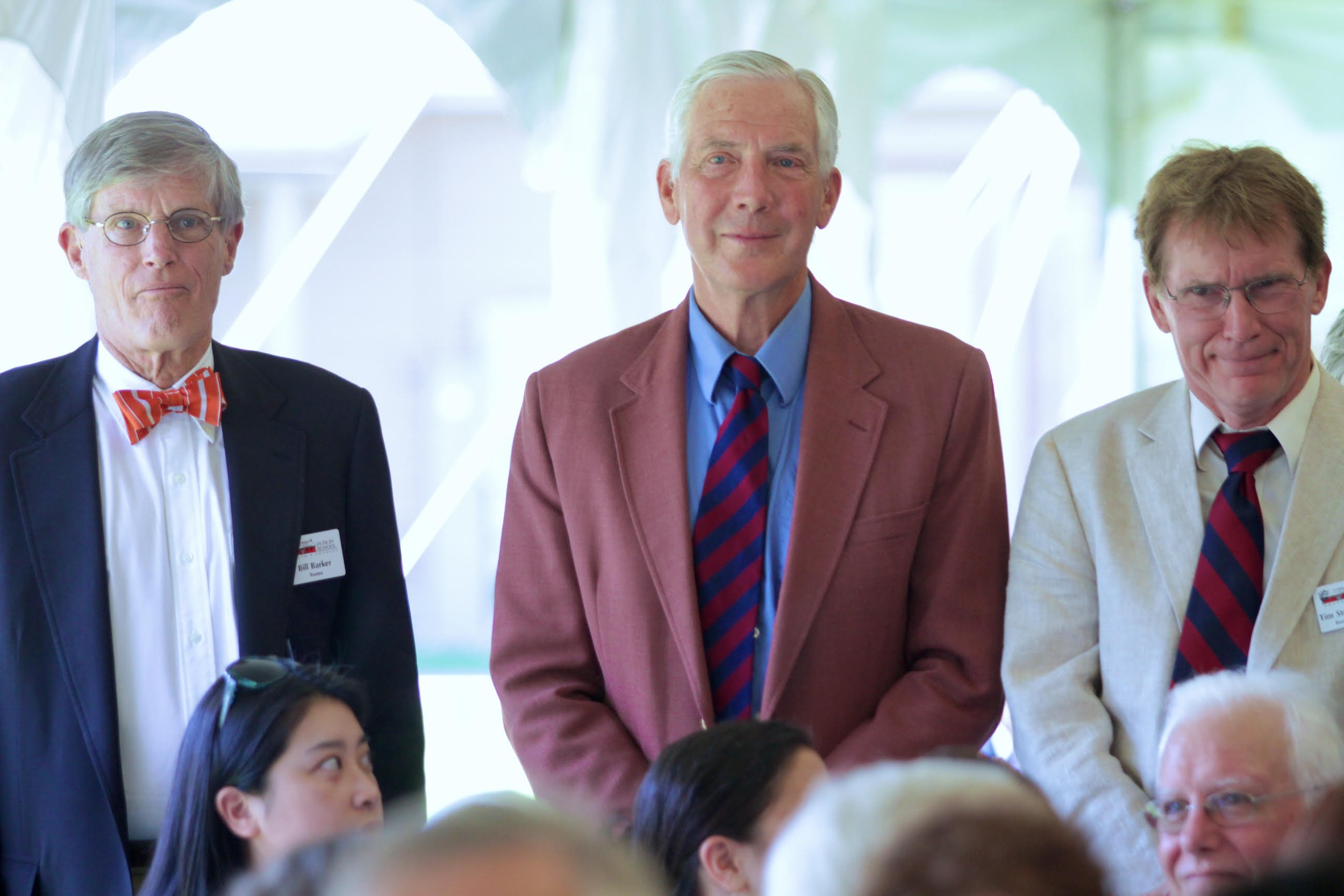 Carl's visits to my office were typically unannounced. Fortunately, people like Erika Rogers would see him coming across the quad and would text me, "Carl's headed your way, and he has that look in his eye." Buckle up. I am sometimes criticized by our staff here for moving too quickly with projects, but in Carl's world, I never seemed to be moving fast enough. So most meetings in my office would start with something like, "hey (say it with Carl's laugh and smile), what's going on here Brad? Are we going to get this project finished or what?" And I would reply, " the stars will still be there next week; I just can't free up labor to help to put the roof on the observatory until tomorrow." Once he got an idea in his head for something that would help the community, he didn't want to waste a second in getting it made. Something tells me that if Carl were working on the Large Hadron Collider, he would be upset with the speed of the particle accelerator.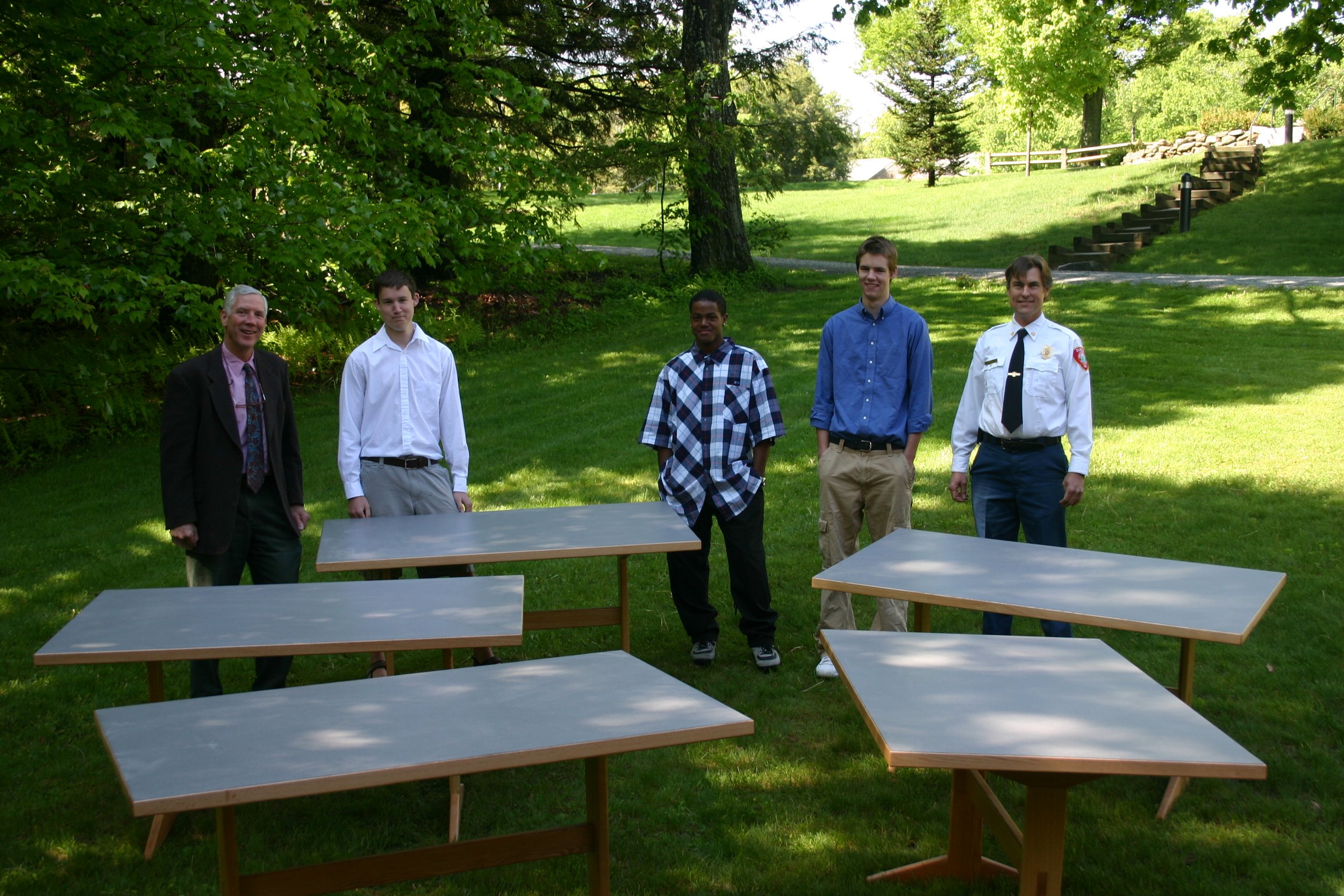 Fortunately, Andy, Francie, Todd, and Anna, told me early on to give him projects, to always have something in my back pocket for him to do. I quickly learned to always have something ready. From that point, he was like the roadrunner in my favorite cartoon. He'd come to campus, I'd get the early Carl Von Warning system text message, pull out my secret list, give him the next project, and beep! beep! he was gone in a cloud of dust, just like the Roadrunner, off to Todd's shop to build the thing. And he would return for his next project seemingly before I could finish lunch.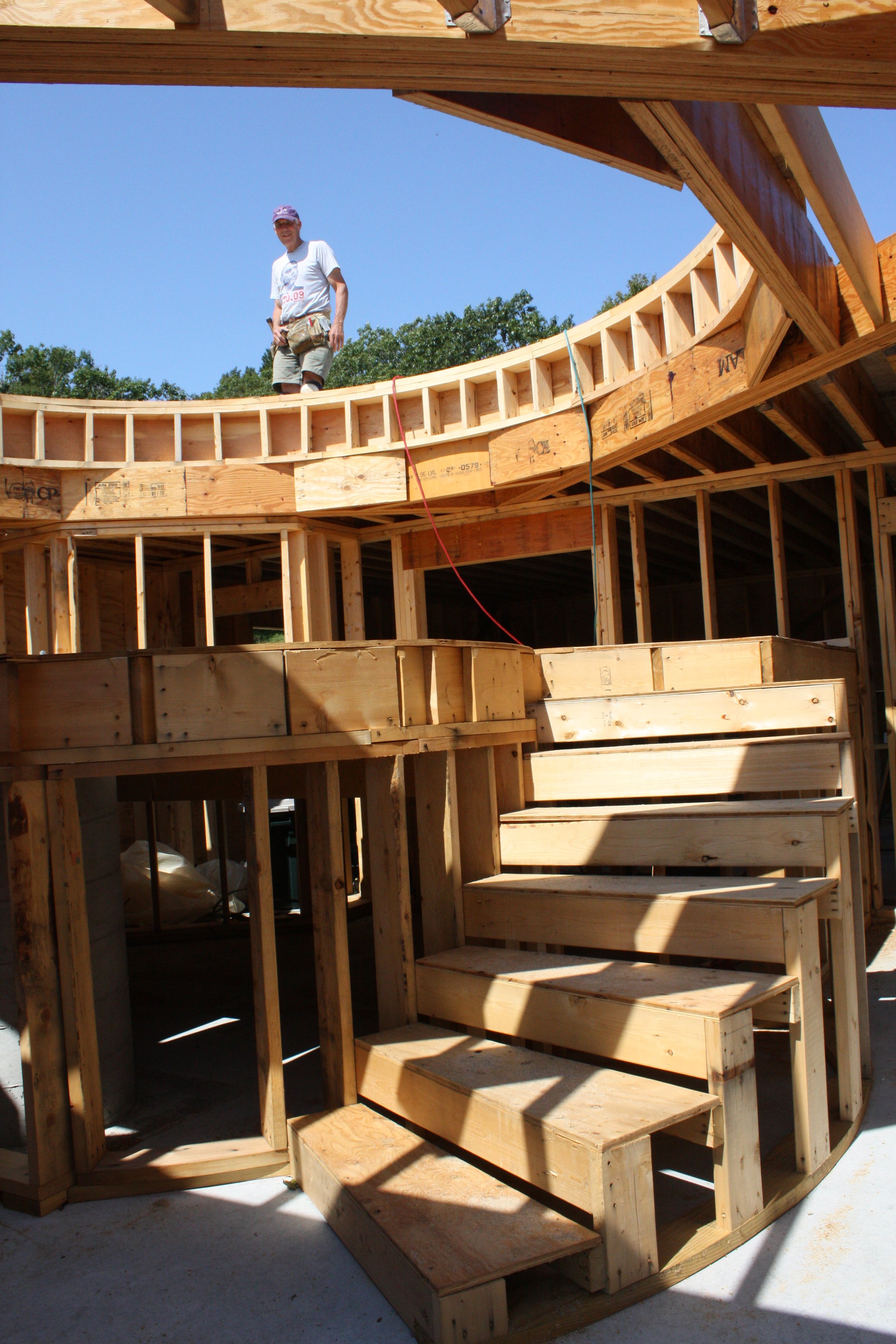 What was on my list over the last fifteen years? It is too hard to count. I would guess almost one hundred tables for the dining hall and classrooms. Countless desks, picture frames, and shelves.He helped me design a Dublin version of a Harkness table and built a Gibson Guitar inspired table for the student center from a picture I showed him. Oh, and a large yurt, a timing building at the Nordic Center, and an observatory. His final project included building stepping stools for every student in the Monadnock Dormitory to help them get onto their beds. I cannot tell you how many individual projects he did for our faculty and staff without telling anyone. He made all of us feel special and cared for.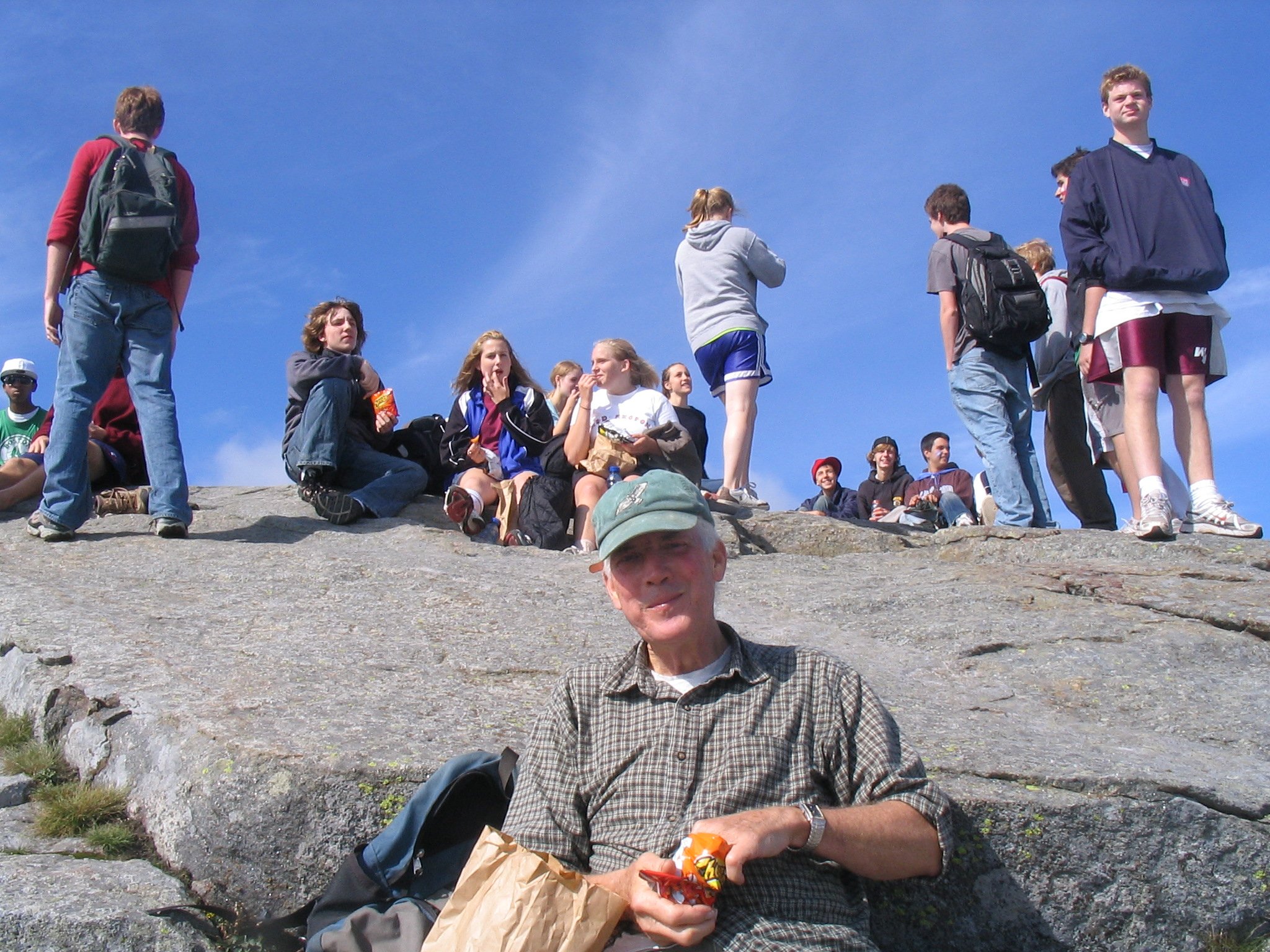 But to me, the most powerful aspect of Carl's work was how he used it to connect with young people. I know that Carl experienced the greatest joy when he helped a young person build something–he saw the power that came from helping someone solve a problem and create something unique and personal. If you asked Carl to build a desk 100cm wide, sometimes the final product would be closer to 98cm, plus or minus two centimeters off. His products were not always perfect in the accuracy column. But I think this is part of what made Carl so special. He understood that people were sometimes 2 cm off. He saw through the faults of his students and focused on the 98cm that they were getting right. He saw the deep, beautiful, flawed humanity in all of us and made us all feel loved.



When I first arrived at Dublin we had a tiny student woodworking operation, and I was tempted to cut the program entirely like most schools were doing to focus more on STEM-like courses. Carl urged me to reconsider and pointed out the timeless importance of students learning how to use their hands and their brains together. He saw what screens were doing to young people and understood that they needed a happy place where they could create something real and tangible.
Carl mentored a young Dylan Pierpont and, together with Andy Hungerford, built a vibrant woodworking program at Dublin. Today our shop classes have the longest waitlists in the school, and we literally no longer fit in the original Von Mertens Woodshop. Dylan points to Carl's positivity and his belief that every problem could be solved by teaching the students never to give up and to use their critical thinking skills to come up with solutions to their building problems.
I spoke with one of Dylan's students recently, and it made me think of Carl's enduring legacy. This student discovered woodworking at Dublin, and in his words, it has saved him. He told me that when he came to Dublin, he saw a classroom as a place of struggle that caused him deep stress. He told me that Dylan has taught him how to turn his ideas into physical objects. He is taking two woodworking classes in his senior year. He loves their current project of building a warming hut for skiers high up on our Beech Hill trails because he gets to go out into nature and build with his hands alongside his friends and his mentor. He concluded by saying, "Mr. Bates, now I see classrooms differently. When I am in one, I look around and think with pride that I could build this classroom and everything in it." Carl would proud.
One of my favorite authors, Maya Angelou, once said, "I've learned that people will forget what you said, people will forget what you did, but people will never forget how you made them feel." I think I speak for everyone at Dublin and probably in this room that Carl made us feel special, that we could do anything we could imagine, that everything was going to be okay, and that we were loved.
When I was with Carl I felt like a kid again. I felt like I was in the Disney movies of my youth. I felt like together, we could make cars fly, and wooden toys come to life, and jump high into the sky with flubber on our shoes. Life was fun, and exciting, and everything was possible. I will work hard to honor his memory and strive to make others feel the way he made me feel.
His soul will live on here. It's in the enduring culture of the school, it's in those of us he mentored, it's in the beauty of the things he built with his hands, and I get to see it every day in his grandchildren Ezra and Hayden, just like I did in Imogen and hopefully one day if we are lucky enough to get Rhys here.
We love you Carl.