Head of School's Blog
Occasional musings from Head of School Brad Bates
"I could see beyond the buildings now."
Heads of School have been ringing the Dublin School bell once a year since 1935 to signal that classes are canceled and the whole school will climb Mount Monadnock. I have to say it is one of those moments where I feel I have real power! One of my favorite aspects of Mountain Day is keeping the secret of its scheduled date from the whole school. The students will go to great lengths to try to guess and determine when the day will be announced. My favorite story about their detective work this year involves a student who did a daily count of how many faculty and staff were wearing hiking shoes on a given day. Dublin students are too smart!
Part of the fun of Mountain Day is to receive an unexpected day off from our regular routines and get the chance to spend the day outside with friends. And then the hiking begins… We climb the White Dot trail each year, and it is not an easy hike! Shrieks of delight from getting a day off turn to groans of agony as students climb the relentless stone steps on the mountain. We like students to learn they can do hard things, and for many, this can be a really big hike. Our faculty spread out on the mountain with candy to help with the fueling and incentive process, which seems to work wonders. The story of this year's Mountain Day, however, was the unforecasted cold wind at the summit of the mountain. Students and faculty hid behind boulders to eat their bag lunches and tell stories of their epic summit attempts. They often bring flags and other props to the mountain to pose with with their friends or by themselves.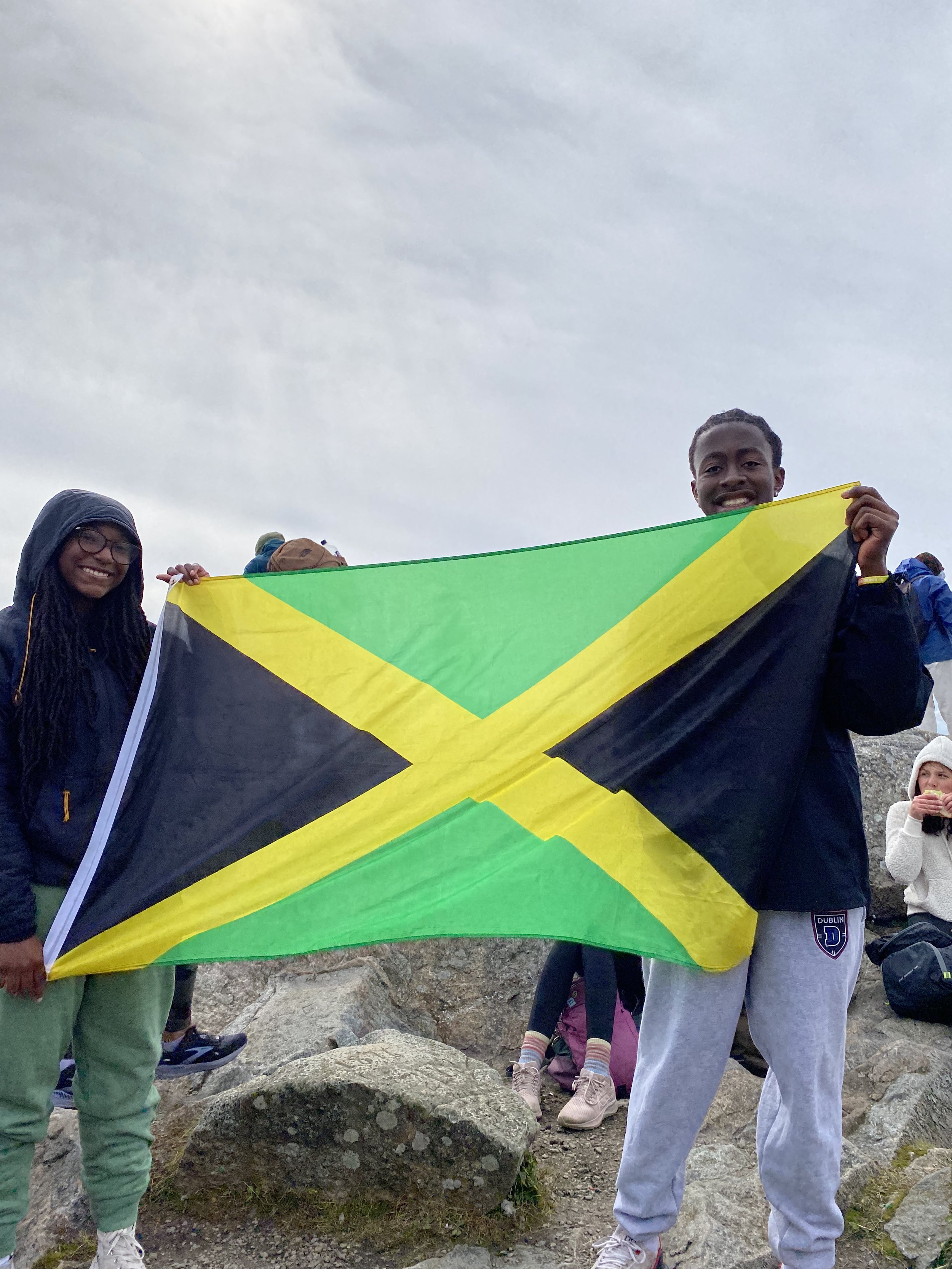 I am pretty sure we had a "first ever" situation in the four hundred million year history of Mount Monadnock this year. A student left a snowboard on the summit after climbing up with another friend to pose for a summit photo. We have had students bring basketball nets, full tea sets with table and chairs (my own son…), and tennis rackets and a net. When another hiker not associated with the school saw the snowboard they told me they assumed that our student was stashing it for the winter. It turns out that our student thought his friends had offered to bring it down so he could take a longer trail back to campus. Oops. When I notified this student back on campus that his snowboard remained at the summit he looked at me forlornly and asked me for a ride back to the park so he could hike up and get the board. "Leave no trace," he muttered. And two hours later he was back with his board!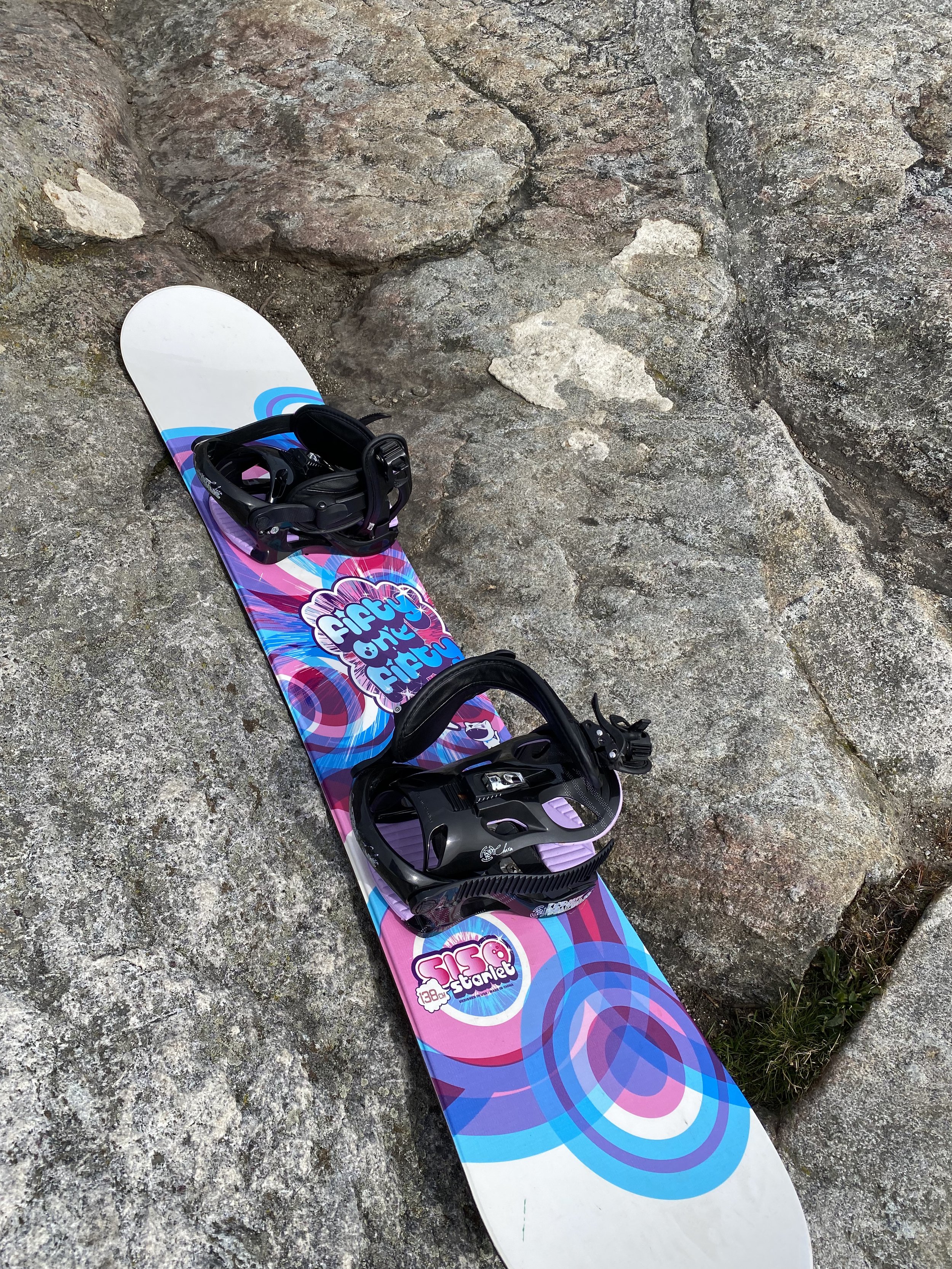 A wonderful alum from the class of 1975, Jose Resto, saw my mountain post on Facebook and wrote the following wonderful comment about his first Mountain Day at Dublin in 1972:
Arrived at Dublin School Fall 1972 as a Sophomore . Wow, fresh air, no tall buildings, no craziness, no walking in the middle of the street to avoid being pull into abandoned buildings..that was growing up in South Bronx, New York for me, Dublin was an awesome retreat for me. Until mountain day.. I asked what the heck is mountain day. I was told "it's when we get to climb the mountain". It seemed to be a dumb question except for me. My immediate thought was why would I want to climb a mountain. Would I get lost? What would happen if I got bitten by something. All sorts of crazy ideas went through my head. My thoughts were not to climb. My New York instincts were to walk in the middle of the street so I would not get pulled in. But I was told it's a mandatory school function and there would be supervision. So, I climbed up the easy trail, the Farmers trail, It was an awesome day. Everyone had a prepared lunch bag. The trail had markings. The view was unbelievable to me. I was used to seeing tall buildings and could not see beyond them. Well, it turned out to be my spiritual awakening. I could see beyond the buildings now.
Thank you Dublin School.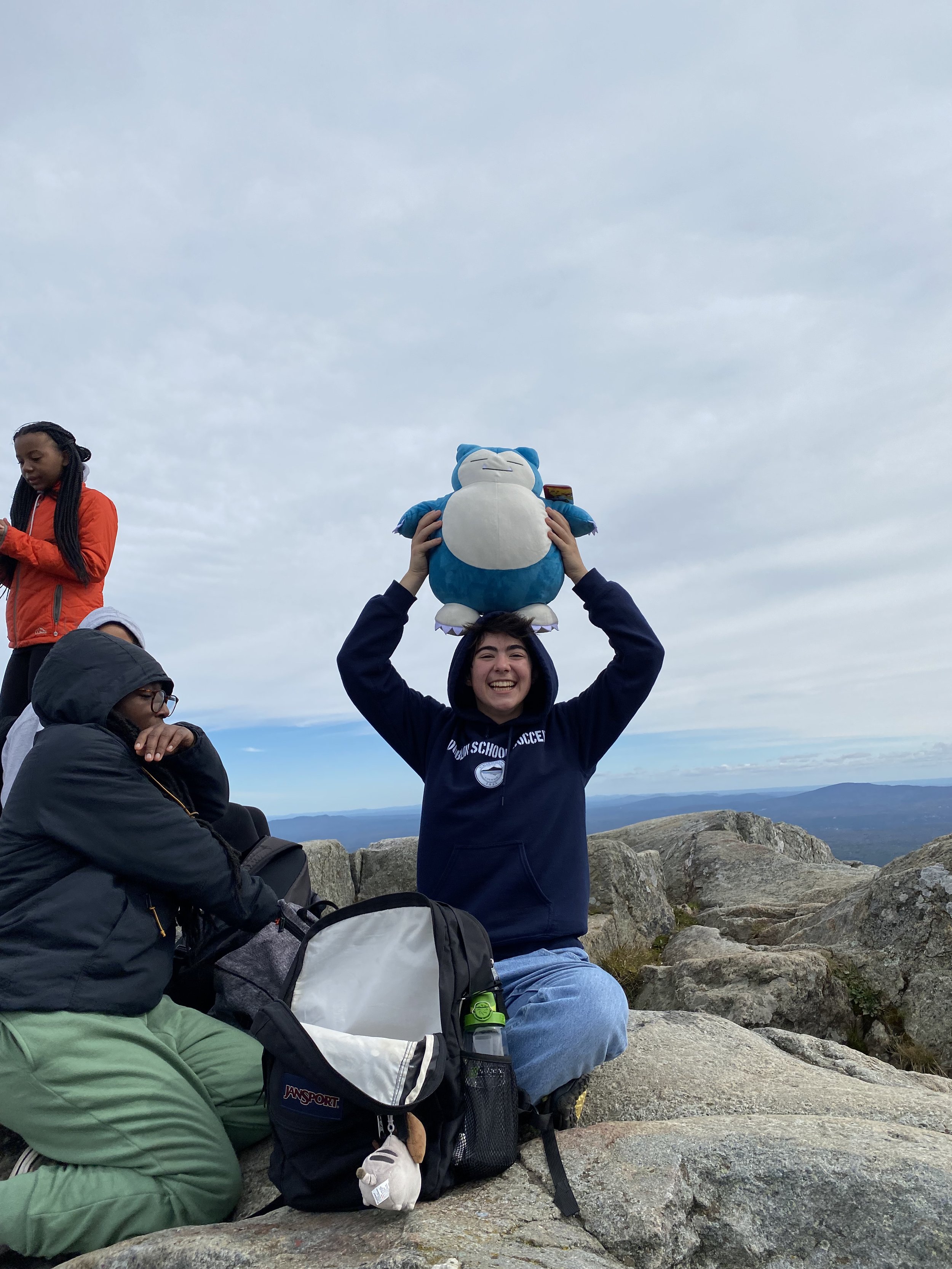 Not every student makes it to the summit in a given year or during their time at Dublin, but every student has a story about Mountain Day. One student arrived at the summit alone and right about the time we were all heading down the mountain. This student said they did not see themselves as an athlete, and they were proud that they had stuck with the climb even when they were all alone. I could see the look of pride on their face. The next day I found this student on campus and gave them a smaller replica of the summit marker that can be found on Monadnock as a token of my admiration for their courage and persistence on the mountain.
Our students now join the much larger story of students climbing Mount Monadnock since 1935.